Roofing Replacement
Re-roofing is the process of installing a new roof when a roofing system fails. Roofing system failures can be caused by a number of factors, including age, severe weather, poor workmanship, defective materials, improper specification of a roofing system, abuse and failure to maintain the roof via inspections.
---
Window Replacement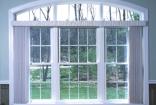 Don't let your time, energy and money slip out of your old, drafty windows. Don't spend your hard-earned money on high heating and cooling bills caused by inefficient windows. Custom replacement windows can give your home style and charm and may help reduce your energy costs!
---
Vinyl Siding Installation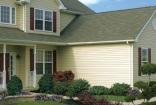 Vinyl siding is a great investment. Residing a home is among the top ten remodeling projects in terms of overall payback. And, if you reside with vinyl, you can often recoup 100% or more of your investment.
---
Seamless Gutters Installation
Seamless gutters are custom fitted, one-piece gutters manufactured at your home. They are far superior to sectional plastic or aluminum gutters bought at home improvement stores. Seamless gutters do not have in-line seams, which always fail. Seamless gutters are made of aluminum, come in a variety of colors and will last for many years.
---
Masonry Repairs
In order to to complete a successful roof replacement, Masonry repairs are sometimes needed. We have two highly qualified and insured Masonry contractors that have handled many successful jobs. This is one detail that we focus on to insureour continued success in achieving complete satisfactionfor our clients.
---
Snow Removal
We offer snowplowing and snowblowing services during the winter months. Accounts can be set up for on call serviceor automatic service depending on your individual needs.
We also remove snow and ice from roofs when needed.This is done on an emergency basis when conditions require.
Go Back